Berbagi dengan NFC
Sharing through NFC
NFC dapat menampilkan ayat Alkitab yang sama di perangkat pada perangkat rekan anda. Fitur ini berlaku jika kedua perangkat memiliki kemampuan NFC (Near Field Communication). Two devices with NFC (Near Field Communication) enabled can send a specific page of the bible to each other.
Tempelkan punggung perangkat anda dengan punggung perangkat rekan anda, maka anda akan melihat tampilan seperti dalam contoh gambar. Tekan layar untuk menyampaikan alamat ayat pada rekan anda. Ponsel rekan anda akan mengerjakan salah satu hal berikut: Touch the backs of the two devices together and a screen like the sample will appear. Tap the screen on one device to send the page over to the other device, which may do the following:
Berpindah ke ayat yang anda kirim, jika aplikasi Alkitab sudah terbuka.
Menjalankan aplikasi Alkitab dan berpindah ke ayat yang anda kirim, jika aplikasi belum terbuka.
Membuka halaman aplikasi Alkitab di Google Play sehingga rekan anda dapat mengunduhnya.
Using the Bible app, it will navigate to the verse that was sent
Open the Bible app and navigate to the verse that was sent
Open the Play Store to the Bible app if it has not been downloaded yet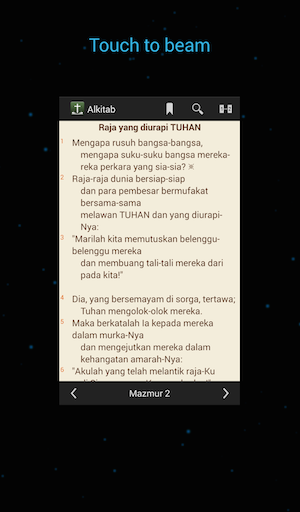 Contoh tampilan NFC
NFC display